The Scanner is the box in the upper-left part of the screen when you bring up your inventory. Normally there is nothing in it, and text below instructs you to "INSERT ITEM TO RECEIVE SCANNING INFORMATION." When you put an item in the scanner, it will tell you the type, composition, and value.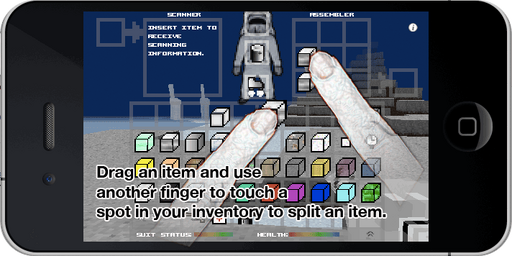 In this help screen, the scanner is seen in the upper-left.
The scanning information for most items is shown on that item's page in this wiki, for example: Drill, Feldspar, Mini Light.
Some items, (notably the three distinct materials Blue Crystal, Ice, and Unknown), can only be distinguished by placing them in the scanner. In addition, Disks give useful hints when scanned.
Ad blocker interference detected!
Wikia is a free-to-use site that makes money from advertising. We have a modified experience for viewers using ad blockers

Wikia is not accessible if you've made further modifications. Remove the custom ad blocker rule(s) and the page will load as expected.