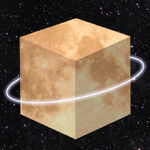 This wiki is dedicated to the iOS app, Lunacraft (formerly known as "Mooncraft").
"Lunacraft" is a Minecraft-type, resource collecting game, with the setting being an alien moon.
About Lunacraft
Lunacraft is a moon-themed Minecraft-type game for the iOS. It includes many features that other iOS games of this genre do not have, such as crafting, mobs, assembling devices and collecting different materials . It is available on the app store for free, but you can purchase an in-game guide and/or get rid of the ads for extra cost. Lunacraft was created, and is being developed, by mode of expression, LLC.
You'll Also Like

--Check Out These Other Wikis--

MCPE (Minecraft Pocket Edition)
Latest Blogs
Create blog post
Dear Devs, It's great to see that Lunacraft has gotten a new, long-awaited update. Call me impatien…

Read more >

It took three years for Mode of Expression to update Lunacraft from Update 1.91 to Update 2.01. One…

Read more >

I've been reading though pages in this wiki and it seems that there are some disrepancies regarding…

Read more >
See more >
Miscellaneous Stats
4 editors (past 90 days)
6,443 total pages
(articles, comments, blogs)
Ad blocker interference detected!
Wikia is a free-to-use site that makes money from advertising. We have a modified experience for viewers using ad blockers

Wikia is not accessible if you've made further modifications. Remove the custom ad blocker rule(s) and the page will load as expected.