Using the analytics website App Annie (which allows anyone with an email address to register for free), it is possible to discover rankings and other information for Lunacraft.
For example, here are the rankings of Lunacraft in the U.S. App Store during the summer of 2012:
It's a free app, so these rankings show how often it has been downloaded compared to downloads of other (free or non-free) apps in the App Store. The red line represents the ranking amongst games, where it has been between #150 and #400 for most of the period.
Here are the all-time statistics, going back to the Update 1.6.0.1 release on Sep 24 2011: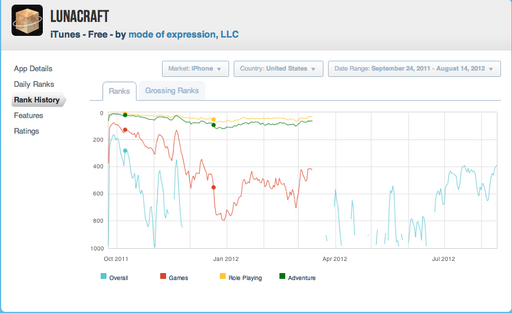 The "dots" in Oct 2011 and Dec 2011 represent the release of Update 1.7.0 and Update 1.8 respectively. Neither release appears to have helped bring the app back to a high ranking, although it peaked twice in November 2011 without any update.
We can also see where Lunacraft is "featured":
This is an important way that people discover new apps if they don't know the name of the app but just want to find something new. In order to see it, you have to be in one of the countries shown, then go to the App Store "Games" screen, then look in the bottom-right under "more games" and pick the category ("Adventure" or "Role Playing") then next to "What's Hot" select "See All". (The App Store also lists "all" games in each category -- but as of summer 2012, there are 4412 free "Adventure" games and 1858 free "Role Playing" games. They're sorted only by name or release date, so it's unlikely that many people have found Lunacraft that way).